---
Want PLA Filament in Your Own Favorite Color?
We provide custom color services for PLA filament. This new
Grayish Brown
filament is a match of 
Panton P 171-9 C
for a customer. We are glad that the customer likes the quality of our color matching.
Having issues with FilaCube PLA 2 filament?
If you are having issues on printing FilaCube PLA 2 filament, please read
FilaCube PLA 2 Cheat Sheet and Tips
.
Send us your tricks on Printing FilaCube filament to win a free 1kg roll
We ship filaments to our Customers
We ship filaments with FedEx or USPS. We provide free shipping for orders of $60 or more. Free shipping is only for orders shipped to the continental US states. If you only need to order one or two rolls, shipping is expensive and please order from our Amazon store.
---
PLA 2 (PLA 2nd generation) filaments
As 3d printing technology continues to develop, the demand for higher quality PLA filament is becoming higher and higher by 3D printer owners and professionals. The FilaCube Research & Development Department is committed to develop unique proprietary formulas for the best 3D printing experience for users of all industries. After FilaCube PLA and PLA Plus (PLA+) filaments, we are proud to introduce our second generation PLA (polylactic acid or polylactide) filament (PLA 2). PLA 2 filaments have increased resilience (less brittle), a smoother surface finish, strong layer adhesion (bonding/binding), low shrinkage, and little-to-no warping.
---
What our client says about us
"We have had great success working with FilaCube filament. It takes a lot of filament to keep our 30+ machine print farm running. The FilaCube filament has proven to be consistent, reliable and hassle-free. Moreover the FilaCube team is very responsive and proactive. I highly recommend them."
~Dr. Larry Ciscon, President
,
Northworks Digital Factory
,   
Click to see more testimonials
---
Smooth finish and Great details
3D-prints with FilaCube PLA 2 filaments can have a smooth surface and great details. Our professional clients, like cosplay makers, love the smooth and matte finish of FilaCube PLA 2 filaments. FDM(fused deposition modeling)/FFF(Fused filament fabrication) printed parts from FilaCube PLA 2 filaments can save 3D printing professionals quite some time and effort for post-processing processes, such as sanding, priming and painting.
Please check our Instagram account @FilaCube to see latest print pictures. (The Black Panther mask was printed and photoed by DarkKnightFx.com). 
---
PLA 2 Prints can be Sanded!
Prints made from FilaCube PLA 2 filaments can tolerate sanding heat better than normal PLA. 3D printing professionals love PLA 2 filaments because great printed details from PLA 2 can save significant sanding and primer time!
The pictures demonstrate how a hero shield was printed with FilaCube PLA 2 filament and post-processed to a final cosplay. After the shied was 3D printed, it was sanded with 80 grit, 120 grit, and 180 grit sand paper, respectively. After the sanded shield was filler primed, it was wet sanded smooth up to 1200 grit starting with 220 grit sand paper. Next the shield was painted in a gloss black lacquer, masked and painted silver, and then sealed. Then nail polish was used to paint the back of the gem and the gem was attached to the shield.
---
PLA 2 Prints are Durable!
This picture shows a durability testing with a print. It was expected that the print would be completely crushed. After being run over repeatedly by a car of 3800 lbs, it's just got some of the sharp corners mushed and that's it. The model was printed in FilaCube PLA 2 filament, 10% infill, 2 walls, and 0.06 mm nozzle.
---
How to control diameter tolerance of 3D printer filament?
At FilaCube, we monitor the diameter change of all newly extruded 3D printer filament in real-time using a non-contact high-speed laser micrometer. In the video, 1,75 mm white PLA (polylactic acid) filament is being produced. There is an alarm associated with the monitor. If the diameter goes beyond (over or under) the preset tolerance 0.03 mm, the alarm will go off. So that workers on the product line will know the issue and discard the roll. This is how we do quality control on the diameter tolerance.


---
FilaCube spool dimentsions
FilaCube provides four spool options - 1kg, 2kg, 3kg and 5kg for both 1.75mm and 2.85mm filaments.
---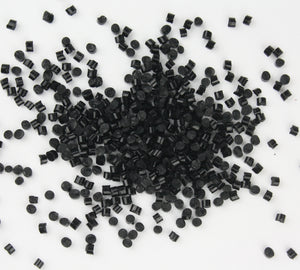 High concentration PLA colorant masterbatch addictive for PLA pellets (colourant color colour mb dye pigment masterbatch master batch pellet high let-down ratio ldr polylactic acid plastic polymer)