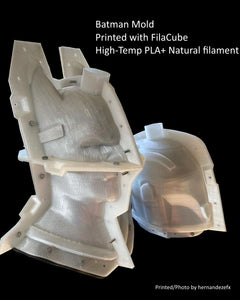 Bulk Discount Price For FilaCube HT-PLA+ 1.75mm 3D Printer Filament
FilaCube High Temperature PLA+ (HT-PLA+) 1.75 mm 3D Printer Filament (1kg spool)
3D Printed Parts can Tolerate Higher Temperature with Post-print Annealing
With post-print heat treatment, toughness or heat-resistance of parts printed with FilaCube HT-PLA+ can be enhanced significantly. The heat deflection temperature can be up to 85°C after annealing; normal PLA is only about 52°C. After annealing, the 3D printed parts will become less brittle and more ductile.
The recommended print temperature is 220°C. You should adjust the print temperature for best results with your printer.
Color Options
Please note that only one color should be chosen from the following color list. You can put your option in the checkout notes. We will make fresh rolls for you from our factory in Houston, Texas!
Natural
Black
Brown
Grayish Brown
Leather Brown
Iced Coffee
Gray
Engineering Gray
Greenery
Olive Green
Army Green
Mint Green
Green
Living Coral
Maroon
Classic Blue
Sapphire Blue
Mint Blue
Orange
Burnt Orange
Pumpkin Orange
Pink
Hot Pink
Process Cyan
Purple
Ultra Violet
Red
Silver
Skin
White
Yellow